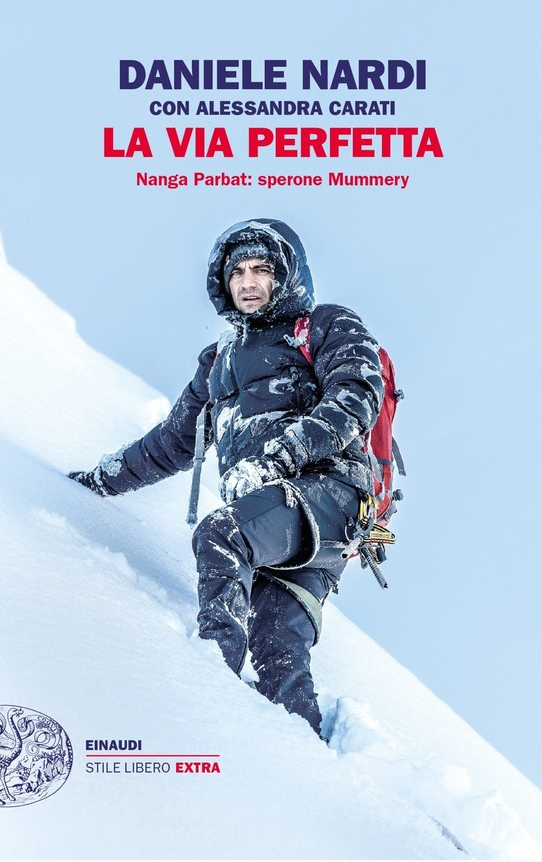 THE PERFECT ROUTE
The book : Review
"The Perfect Way / Nanga Parbat : Mummery Spur" is the posthumous book by Daniele Nardi, written with Alessandra Carati (writer, editor and screenwriter) released in November 2019 for Einaudi , available only in italian edition.
The tragic death of the italian mountaineer and his English partner Tom Ballard at the end of February 2019 on the Mummery Spur of Nanga Parbat, has transformed what was to be the story of a long journey towards a dream, into an intimate autobiography, full of self-criticism, sincere and conscious, raw in the contradictions and bitter in the narrative of conflicts and recriminations with others ; at the same time, full of an unstoppable passion, full of love for his wife, friendship, esteem and respect towards the mountaineers with whom Daniele Nardi shared challenging climbs, successes and failures. A story full of falls and subsequent redemptions, against adversity far more fearsome than some Himalayan wall : diseases, both physical as psychic. All of this, narrated between mountaineering feats of increasing thickness, maybe not outstanding but often in remote environments, with real exploration, especially on less famous but iconic and difficult peaks between 6000 or 7000 meters, both in Karakorum as in Himalaya.
The heavy emotional and moral burden of completing and publishing the book was taken on the shoulders of Alessandra Carati : without previous particular passion for the Mountains, much less towards extreme mountaineering, her acquaintance with Daniele Nardi – and with his family, his native environment – had turned into a friendship that led her to embark on the difficult winter trek to the Base Camp of Nanga Parbat, to share some days with . Alessandra wanted, not without hesitation and problems, to really try what extreme winter mountaineering meant. The motivation, she explained us in the following interview, was to understand what drives a man to live in brutal winter conditions, on colossal mountains. Nardi, in those days, showed her and then sent her an email saying that if he didn't come back from the mountain he wanted her to finish writing the book.
"Because I want the world to know my story"
The first, clear feeling at the end of the reading, is that Nardi has written a sincere story, a true "naked self portrait" – unlike most books written by mountaineers, full of rhetoric, self-celebration or boring lessons of motivation , often lacking in self-analysis, a sight on their own contradictions and human miseries. This, together with the beautiful narrative style, is quite extraordinary, since one of Daniele Nardi's biggest problems has always been the style of communication : often Gascon and slash, full of drama, over the top, bitter and sometimes lamenting, for the syndrome of isolation always suffered, he mountaineer "de Roma" ["born/of Rome",ndR ] , nicknamed "Romoletto" ["the little king of Rome",ndR] by Silvio Mondinelli, against the Northern Italian Alpinism entourage, With few sponsors and great difficulties in financing their own businesses.
It is certainly thanks to the great craft of Alessandra Carati that the reading flows pleasant, pressing and exciting; the narrative system is well structured on the five attempts to climb the Mummery Spur of Nanga Parbat, the large index of rock that points straight to the summit from the base of the Diamir, surrounded by drainage channels, overlooked by huge glacial evenings, accessible only by a dangerous and cracked glacier. The beginning of these attempts is represented by an email, affectionate and concerned, of a friend of Nardi, the great Canadian mountaineer Louis Rousseau, who tries to dissuade the italian from the Project of the Mummery, with touching and impressive words and motivations.
The Mummery : dream and obsession of Daniele Nardi, around which the rest of life flows and takes place; for each of these trials, the mountaineer's thoughtful gaze on the Diamir wall shifts and lingers on the events of his life, his training as a mountaineer, the first solitary on the Grandes Jorasses at 19, the result of an irrepressible and early passion, developed during the family's summer holidays in the Alps, and matured almost as a self-taught, even on the crumbly and not easy northern walls of the Central Apennine, on the Gran Sasso and on the Shirt.
Able to reach Everest in 2004, albeit with oxygen, then the middle peak of Shisha Pangma without oxygen. In 2006 he climbed Nanga Parbat via Kinshofer route and Broad Peak. In 2007 he was a expedition leader on K2 and climbed to the summit without oxygen – but a fellow expeditioner, Stefano Zavka, never returns from the mountain, having reached the summit well after sunset.
The book shows Nardi's self-criticism, inexperienced in emergency management and especially the "after", in communicating what happened to Zavka's family. A ghost that will accompany him for a long time. The book continues with dry tales of past successes, does not linger on the mountaineering description of the climbs – except for the one that Daniele Nardi loved most, the new route traced on Baghirathi III with Roberto Dalle Monache, way not finished on the summit but remarkable in its development and difficulties on one of the most beautiful and coveted Himalayan peaks.
Paradoxically, winning the prestigious Italian Alpine Academic Club Council Award for this route, Nardi writes in the book that here begin "interference" to the pure love for the exploration of the high mountain : his desire to feel accepted and recognized by an environment that does not consider it as much as it would like, its desire for revenge, the need for visibility begin to affect its mind.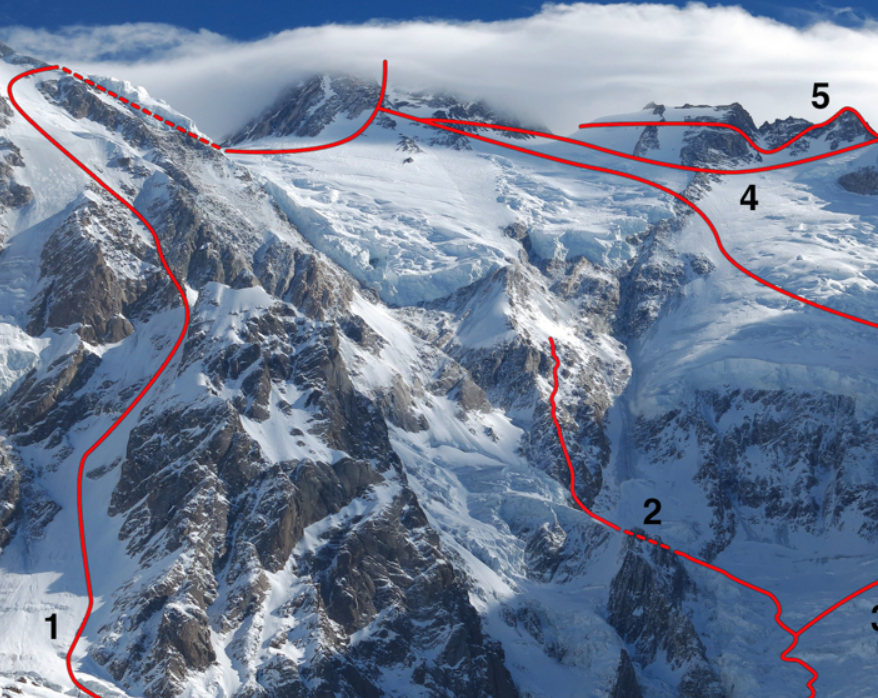 The story of the attempts to realize his dream, the way of the Mummery Spur- a goal for which he was mocked, blamed as suicidal, exalted, deluded even after death – continues between beautiful pages of mountain : especially in the story of the first attempt, 2013, teamed up with the great French mountaineer Elizabeth Revol; The duo reached the highest point ever reached on the Mummery, 6450 meters, about 250 meters from the end of the technical difficulties and the exit of the Sperone on the "great basin", the plateau at 7000 meters, between the impressive columns, severe and dangerous, of the glacial evenings Incumbent. Then some words on the missed teaming up with Tomek Mackiewicz and Elizabeth Revol, the conflict of visions and objectives that separates them at Diamir Base Camp; conflict that is mitigated, by the fine words that Nardi reserves to both, full of great affection and esteem.
The fourth chapter – dedicated to the resounding breakage with Alex Txikon and Ali Sadpara at the beginning of 2016 , his partners on previous year during the attempt of First Winter, failed two hundred meters below the summit – is a very detailed account of an "announced conflict" : the Nardi's attempts at mediation between Bielecki and Txikon, being the spanish worried by economical trouble, the incident on the wall where he saved the life of Bielecki himself ; Nardi's obvious lack of motivation for Kinshofer route, the first conflicts with Txikon and Sadpara and mutual distrust, immediately, with Simone Moro ; the failure of Elizabeth Revol and Tomek Mackiewitz bid, when at about 7300 meters, with the concrete prospect of a successful summit through the Messner-Eisendle route, they retreated after receiving from Moro weather forecasts revealed to be quite incorrect, perhaps the strangest event that year . This, confirmed by Filippo Thiery, meteorologist of Nardi, who told him that good weather was expected for 3 days ; he did not understand how Karl Gabl – a renowned meteorologist, Moro trusted expert – could have failed those forecasts [see the forecasts of these days]. While the French and the Polish quickly descended on January 22th, on January 25th Nardi, Txikon and Sadpara were at C3, at 6700meters, in good weather. And the Revol left the Nanga: she ran out of expedition time. The polemic and breaking tail between Mackiewicz and Moro was even bitterer [see Sources (1),(2),(3),(4),(5) below]
Then Moro and Lunger's decision to join Kinshofer route. Daniele Nardi waited three years before explaining how he felt he came first to the decision, then to the break with the rest of the team, handing Carati the recordings of the dialogues at Base Camp and its version. Absolutely questionable version, of course, and biased : but in the book there is also this. And there is further criticism of Moro for letting Tamara Lunger retreat alone, in distress, on the fateful day of the First Winter on Nanga Parbat.
At the time, following that daily expedition, I was not surprised by the distrust of Nardi by Txikon, Sadpara and finally Simone Moro, until his ousting from the team . But no one emerges undepended from errors and ambiguous behaviors, in this chapter, albeit with different nuances. It is, of course, his own version: however, and it's not negligible, the dialogues are faithful transcriptions of audio recordings – Nardi admitted it was questionable, but not illegal – according to the co-author and that the publisher Einaudi considered their publication lawful and transparent.
To date, several articles from the specialized press on the book have been published; it is curious, euphemistically speaking, to note that any journalist had the curiosity to speak about or ask questions about this uncomfortable, bitter, questionable chapter which is an important part of the book that Nardi wrote.
Is up to the reader each thought or judgment on his own, about an issue that will no longer change anything : History is written and has erased old controversies. Nevertheless, this chapter of Nardi's life reveals an unpleasant side that is generally preferred to conceal; it strips mountaineering from its supposed idealization, its being not exempt, as no human social activity is, from great rivalries, dirty games, miseries and opportunism. On the contrary: it amplifies to the extent of merits, qualities and fears, defects. Of all, no one excluded.
Certainly, Nardi was not capable of diplomacy and self-control confronting with more experienced climbers, during expedition. He paid a high price for this, even in terms of credibility. It must be said.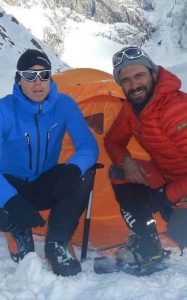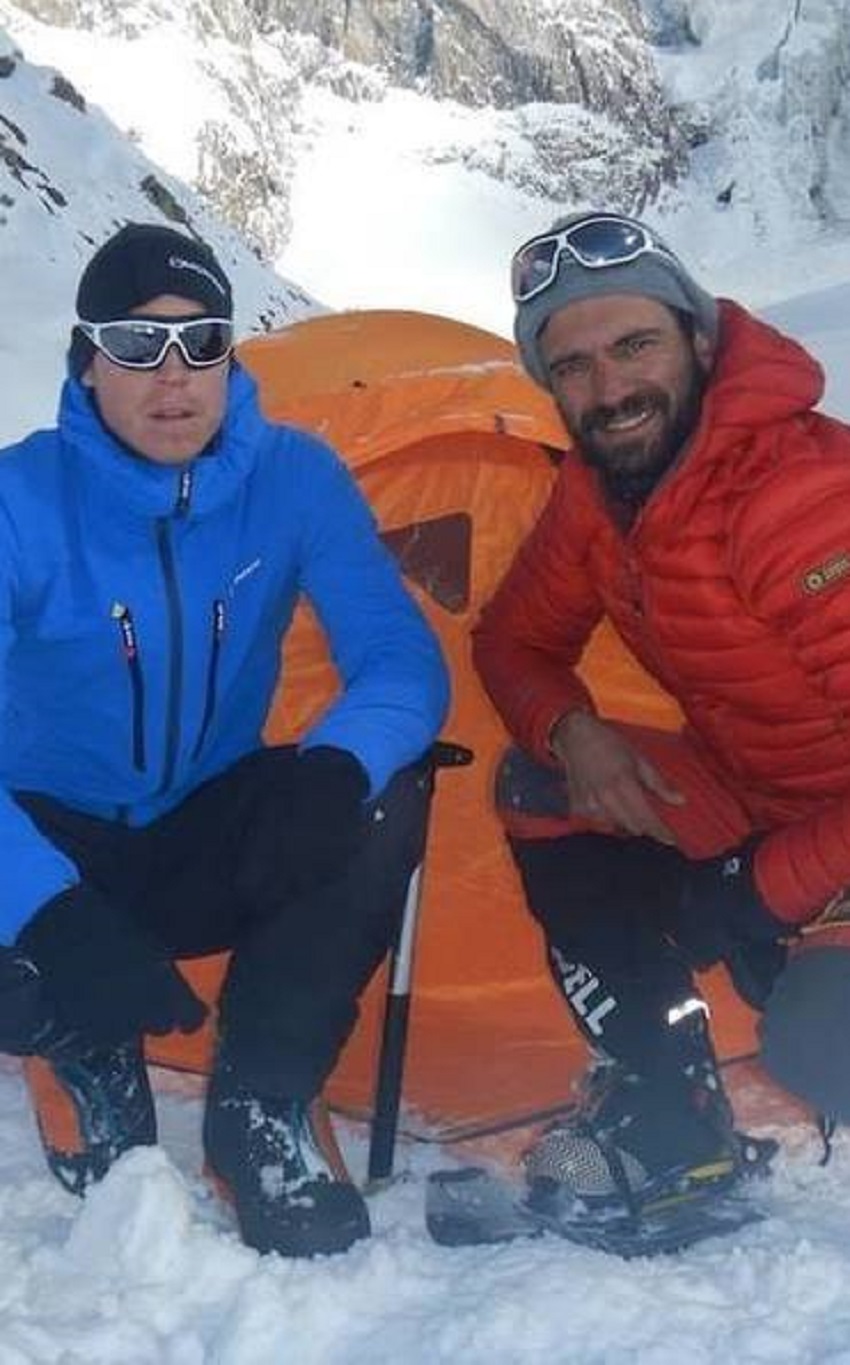 Tom Ballard and Daniele Nardi. Nanga Parbat
The chapter of the "Fourth Attempt" continues with the story of the acquaintance with Tom Ballard, who sought Daniele Nardi, interested in his type of mountaineering: a friendship that was welded in 2017, in a interesting expedition to the remote Kondus Glacier, in Karakorum ; the duo climbed a rock route on an unknown 6000 peak in the Area, and an attempt on an iconic 7000 meter mountain, the Link Sar. The pair, after having opened over 1500 meters through a tricky glacier , until the first difficulties of the North East wall, will have to withdraw due to continuous avalanches and bad weather. Then there is the painful chapter of the Tomek tragedy and the rescue of Elizabeth on Nanga Parbat winter early 2018, when Daniele contributed concretely to the rescue efforts, coordinating and involving all his Pakistani contacts and providing useful information. The thoughts about Tomek, his personality and his intimate dreamer soul are very touching.
In the final chapter, the book's narrative register changes: Alessandra Carati tells the story in the first person.
She retraces the trek to Base Camp, the difficulties and the frost, her intimate experience as a woman in the relationship with the locals, the enormous esteem and respect that all Pakistanis pay to Daniel, the delivery of materials and humanitarian goods in the very poor villages between Skardu and Diamir Valley; the friendship and good humour between Tom and Daniel, the fearful avalanche rumbles that dumped the mountain "whose bulk covers the sky and overwhelms you immensely". Then the return to Italy, Daniel's confident messages and those worried about the material buried by the avalanches.
Until the decisive moment : there is a window of discreet time, it is February 22nd, now for a month now the two are stopped at Base Camp, training on the sass doing drytooling, walking up only to Camp 1. They start with great determination, until the fateful 24th February, where they climb 300 meters of speron from the 6000m of the C4, a curtain in the wall. They are optimistic, full of joy that they communicate to Alessandra for satellite, they found the sack hanging on the wall, at the top. But they tried perhaps too much in the previous two days, with a pull and so much load of materials for the decisive attack. And the final hours, the silence.
The epilogue we know, Alex Txikon generously leaves K2 with a team to rescue and search for Daniel and Tom. After terrible days, between reconnaissance on foot and with drones, while a bad media debate rages, where Messner, then Moro and others claim the safety that the two were buried by an avalanche, that the road was almost suicidal [ see links in Sources] Tom was involved in a feat which was not his own and was not to be done as the first experience out of a 8000ers peak, the fan-tribes dividing and arguing on Social etc – the two unfortunate climbers were spotted by telescope, dead, not killed by an avalanche but hanging on the ropes, in perfect visibility even after 10 days since the accident, probably victims of a rappel accident and/or hypothermia. Their last phone call was reportedly at 8 pm on February 24th, at Base Camp: Daniel said they were coming down the wall, the conditions were terrible. Whatever the reason for leaving the tent and knowing that probably hypothermia was waiting for them into darkness, it was obviously a tragic , extreme and ultimate necessity.
The short epilogue is a touching testimony of life, of pure and sublime sensations on the Nanga and ends like this:
"at least once in a lifetime, everyone should meet a Daniele Nardi who with a smile urges you to go and see what there is beyond the line of the horizon, and to walk with him on the glacier"
Daniele Nardi came out of the scene with his flaws, his humanity as abrupt, distrustful, difficult and sometime ambiguous ; at the same time, as expansive, positive, full of love and an irrepressible passion for mountaineering and constant challenge in facing oneself's demons. A burning passion that costed him a short life, but not lived unconscious .
A life that deserves respect, which arouses and provokes discussions but a worthy life: a man, a mountaineer who had courage both in the mountains and in testifying, above all, of his most intimate weaknesses without stopping to think positive, to try to get up at every fall to start over and improve; that in the history of Mountaineering will remain as the one who attempted "an incredible winter route, a direttissima, a fucking visionary route on one of the most feared mountains in the world" – as the mountaineer Louis Rousseau wrote to us: the Mummery Spur Route .
Interview with co-author : Alessandra Carati
Alessandra, yours is a solid resume of writing experiences for film and theatre and then as editor and ghost writer on very varied publishing projects; in 2016 you co-authored, with the cyclist Danilo Di Luca, of his autobiographical book "Beasts of Victory", a harsh act of accusation (and self-incrimination) , of those who no longer have anything to lose and can finally speak in true freedom of the "system" against the huge problem of doping, an intimate unveiling of an athlete who confronts the hypocrisy of those who expelled him from the environment (disqualified for life) as a unique scapegoat of what seems an intolerable tangle of collective interests in sport.
I mention your literary curriculum because I have the idea that in part the meeting with Daniele Nardi has involved you and convinced you to work with him, for his experience – equally problematic, also for several reasons – in the environment to which he dedicated his life : Mountaineering. Is that so? What was, however, the decisive drive – for an author absolutely distant and not involved by a personal passion for the mountains – to undertake the writing of a book with a mountaineer ?
When I approached Daniel's story, I didn't know mountaineering and I didn't know anything about the quality of the environment. I chose to embrace the project because Daniel intrigued me. As I wrote in the book and like many other people, I wondered why someone chose to test themselves so a mountain of 8000 meters, in winter, five times in a row. I wanted to understand what moved him, intimately and as a human being.
Reading the book, I found Daniel's courage extraordinary for Daniel's raw and sincere self-analysis, which spares no unpublished details about his period of depression and burnout, he does not discount mistakes in private life as well as those in some shipments, because of his character. Yet, the positive side, of pure sincere, gascon and empathetic passion emerges and is appreciated. How did you experience this contradictory aspect of Daniel?
Daniel was so many things together. Writing, fortunately, resists the temptation to simplisticly reduce people and protects against judgment. In doing so, it allows us to understand more, to accept more, to love more.
While working on the book, did you have to argue with him about how he wanted to expose his emotions, his ideas and the events that happened in the great mountains of Karakorum and the Himalayas?
There was no time to discuss the form with which to build the narrative. We worked together in the collection and choice of materials, then I proceeded to write alone, with all the decisions that come with it.
I cannot avoid to address to you a very sensitive and burning issue. Since the book came out, I have read articles and reviews but for anyone who has read it, there has been an almost total and deafening silence on a precise part: The Attempt Four, that is the 2015-2016 expedition with Txikon and Sadpara, lived between bitter polemics ; what surprised him, at the time, is that Daniel defended himself very tenaciously only from the accusations of Txikon (later turned out to be rather labile and unfounded) of non-financial contribution or even of having "invented" the fall on the Kinshofer wall . Daniel did not respond, punctually, to Moro's strong accusations.This weighed heavily in the collective judgment towards him. As Daniel himself writes.
In the book it's striking to read the brutal and polemical dialogues of what happened. And these dialogues differ from Moro and Txikon's versions. I listened to your interview on Alessandro Milan's broadcast on Radio24, where you say that the dialogues are written "to the comma" because they come from the recordings that Nardi made in the common tent, while the final meeting was taking place with all others. You said this was not illegal at all, so much so that Einaudi has assessed it as publishable without censorship. Do you confirm that? Has anyone contacted you to specify or disprove what is written? What do you think of the reaction of the press, by the way?
The scenes of the fourth attempt, which take place in the tent and which include Simone Moro, Alex Txikon, Tamara Lunger, Ali Sadpara and of course Daniele, have been reconstructed entirely from the recordings that Daniel had made. I did not draw the jokes and their content from a story mediated by Daniel, but directly and faithfully from the audio. They are the voices of the protagonists.
For example, there is a detail of the story on which conflicting versions have been given, and it is the way it happen the join the two expeditions. Moro stated publicly, in his book "Nanga" and in some interviews, to have been invited by Alex Txikon, while in the audio he repeats several times that it is he who asks to be allowed to join the Kinshofer team, so much so that it insists on how much money has to pay for the material and the work done in equipping the mountain. It is a subtle, yet substantial, difference because it defines the relationships of force, weights and the balance within the team that will attempt the first winter of Nanga Parbat.
No one has so far asked in any way for that part of the book, much less talked about it on printed reviews. Honestly, if I were a journalist, I'd be intrigued, I'd ask questions.
Let's talk about to the most exciting and painful part, the one you practically wrote yourself. The final attempt: your decision to trek and spend days at Base Camp to really experience a winter expedition; the atmosphere between Daniel and Tom, the long waits and the tragic ending. How did you go through those terrible days? Have you thought about quitting everything, despite Daniel's request in his famous email?
During the weeks of the rescue the project of the book did not even touch me, each energy, each thought were for Daniele and Tom. I was distressed to know how to lose them inside the gigantic Nanga massif. And then there was Daniela and Mattia [Nardi's son,NdR], I couldn't even imagine what they could feel at the time. Later I was tempted to let it go, but the will expressed by Daniele was very clear and his mandate nailed me. I gave him my word.
What conclusion, if ever, have you elaborated in your soul, about Daniel's life and death?
I have no conclusions, no ideas, let alone opinions, about Daniel's death. Everything I've touched, guessed and tried to shape is inside the book. Each reader can move from there to let the feeling with which to look at his figure, his life.
Interview with Louis Rousseau
Louis Rousseau is one of the strongest Canadian climbers. He was born in 1977 in Quebec and began to climb at 15 years old. Between 1999 and 2010 he climbed many peaks in the Andes, accumulating experience on the 6000ers. From 2007 he began to climb the great mountains of the Karakorum and the Himalayas, opening a partial new route on Nanga Parbat in 2009 ; he tried a new winter route on the South face of Gasherbrum I. He climbed Gasherbrum II, Broad Peak and attempted K2 several times. He climbed 7000ers peak as the Khan Tengri and the Tilicho Peak. Always without oxygen, pursuing the alpine style and following a very strong climbing ethic. His climbing partners on high altitude expeditions were Adam Bielecki, Gerfried Goschl, Alex Txikon, Rick Allen and many others.
How did you meet , if you did it live, with Daniele ?
I never met Daniele in person. Since 2015 we had sporadic contact via internet. I heard about Daniele after the 2011 Bhagirathi route and the 2013 winter attempt with Elizabeth Revol. After that, Alex Txikon contacted me to join him, Daniel and Ali Sadpara for the winter attempt of Nanga Parbat in 2016. I said no. Daniele invited me for the Nanga 2019 attempt but again I refuse and I tried to convince him no to go again. During the expedition we had regular contacts via WhatsApp especially when they lost a lot of equipment. I propose to send some equipment from my deposit in Pakistan. After all, it was ok, they had the essential to continue their ascent.
What do you think about Daniele, what impressions and feelings gave him to you – as climber first, then as a man?
Really motivated and goal oriented climber. He could climb hard technical routes as much as perform very well in high altitude. During our conversation, I could see that he was a real nice guy. Very idealistic and a dreamer who always want to improve and be a better version of himself. During our last conversation he told me one important thing, that he wanted: "to try to help people to change their life by inspiring them.» So for sure Daniele was a man who wanted to change the world around him, it was not about alpinism, collecting summits or seeking for first ascents, it was way more than about is own person.
I know he asked you to join in for his Nanga dream; then, you have some correspondence before telling him that you choose not to go in and asked him to rethink about it. Can you explain me, after your experience of a partial new-route on Nanga in 2009, what drove you to the feeling that you have done, with that mountain?
I will start my answer with something I wrote to Daniele : "You'll find it a bit esoteric, but I believe in the curse of the killer mountain. There is something with Nanga Parbat that blinds us climbers and draws us even more towards danger compared to the other 8000m." I think it is because of all the folklore around this mountain. When you start to read a lot about it, it turns into fascination and passion. It is really attractive and you want to go. Then, when I was there in 2009, two people lost their lives and there was a lot of discord after that. The recent history of winter attempts is also filled with discord, accidents, backstage games and now deaths. It is a real tragedy. There is no other words to describe the past few years. Just think of the 2013 terrorist attack. I saw Daniele go back into this again and I wanted to do something to discourage him. I asked him if he wanted to find a completely different and positive project with me, but he told me that : "if I change idea and I want to join him and Tom, to let him know."
Do you think that danger starts, for a climber, in the moment he got too much emotional about a mountain, a goal ?
For a climber, danger starts as soon as he step inside the jeep that will bring him at the beginning of the trail going to base camp, that means at the very beginning of the expedition there is dangers. Mountaineering is an extremely dangerous sport. There are not many other sports in which you go on a vacation and you come back without your friend. Even if you are "too much emotional" about a project or a mountain, that does not mean that you are more in danger. Can this influence our decision-making? Certainly yes, or when there are other goals than climbing and feeling free, even goals that you don't admit to yourself. You are always going to bring on an expedition the things that are not settled at home. Nothing that you will do in the mountains can resolve them, on the contrary.
I know that Daniele and Tom were professionals and they had the experience to climb Nanga Parbat in winter by a new route, but they unfortunately had a terrible accident. We will never know exactly what happened and it is terrible for the families. More than anything, we will never know their state of mind before the accident. Was it a distraction, was it a result of bad decisions like several accidents in the mountains? We do not know. What we do know is that the two climbers had strong experience and they completed each other very well in their team. Daniele had a solid high altitude and winter expedition background and Tom was one of the best technical climbers in the world. I don't think their emotional state has anything to do with their death. It was a tragic accident.
References and Sources
Daniele Nardi
Nanga Parbat ed Elizabeth Revol, Mummery Spur 1st attempt : http://publications.americanalpineclub.org/articles/13201212505/Nanga-Parbat-Diamir-Face-Mummery-Rib-winter-attempt
Translimes Expedition with Tom Ballard, Kondus Glacier, Link Sar :
http://publications.americanalpineclub.org/articles/13201214726/Kondus-Glacier-Link-Sar-Northeast-Face-Attempt-Fiost-Brakk-and-Other-Ascents
Farol West,unclimbed peaks in Karakorum :
http://publications.americanalpineclub.org/articles/13201212928/Margheritas-Peak-5400m-South-Ridge-Open-Eyes-K7-West-6615m-Southwest-Pillar-Attempt-Farol-West-6370m-West-Face-Telegraph-Road
Baghirathi III :
https://www.planetmountain.com/it/notizie/alpinismo/bhagirathi-il-report-della-via-di-nardi-e-delle-monache.html
Thalay Sagar, with Alex Txikon, Ferran Latorre e altri :
http://publications.americanalpineclub.org/articles/13201213829/Thalay-Sagar-Northwest-Ridge-Partial-New-Route
Tom Ballard
The Six Northern Alps Great Walls, winter , solo :
https://www.planetmountain.com/it/notizie/alpinismo/tom-ballard-completa-le-sei-nord-delle-alpi-in-inverno-ed-in-solitaria.html
Drytooling, the most difficolt route so far :
https://www.planetmountain.com/it/notizie/alpinismo/tom-ballard-libera-una-via-di-d15-in-dolomiti-il-grado-di-drytooling-piu-difficile-al-mondo.html
Tomek Mackiewicz
The long post after 2016 Nanga Expedition :
http://czapkins.blogspot.com/2016/06/witajcie.html
Simone Moro
on Mummery, Nardi and Ballard
https://www.desnivel.com/expediciones/expediciones-alpinistas/simone-moro-intentar-el-espolon-mummery-en-invierno-es-como-jugar-a-la-ruleta-rusa/
https://www.desnivel.com/expediciones/simone-moro-sobre-la-ruta-que-intentaban-daniele-nardi-y-tom-ballart-en-el-nanga-parbat-el-espolon-mummery-es-casi-suicida/
https://www.thetimes.co.uk/article/partner-of-lost-climber-tom-ballard-was-obsessed-with-killer-mountain-mtmzkflhr
on Nardi , 2016 expedition
https://www.montagna.tv/93793/nanga-parbat-la-verita-di-simone-moro-a-filippo-facci/
http://alpinistiemontagne.gazzetta.it/2016/11/28/come-si-arrivo-alla-rottura-con-nardi/
Reinhold Messner
https://www.ladige.it/news/cronaca/2019/03/09/tragica-morte-ballard-nardi-reinhold-messner-gl-iavevo-detto-non-andarci
Mckiewitz/Revol and the aborted summit bid due to ..bad weather
(1) 19th January 2016 : "Decisive days on Nanga.Tomek Mackiewitz & Elizabeth Revol spotted the colouir leading to the summit pyramidal [..]"
https://www.facebook.com/groups/185186314867223?view=permalink&id=1058684744184038
(2) 22th January 2016 : "Tomek and Elizabeth are at 7400 still climbing up[..]Alex,Alì & Daniele are at C2[..]"
(3) 23th January 2016 : "Simone Moro said that Tomek &Elizabeth are at 7300mt and weather is worsening.So, their Summit bid was aborted [..]"
about Mummery tragedy, previously published
http://montagnamagica.com/la-tragedia-sullo-sperone-mummery-fanatismi-e-alpinismi/