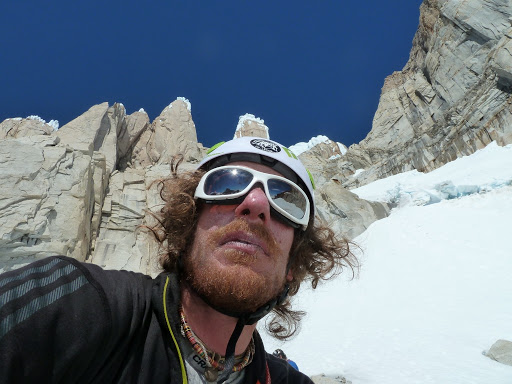 Matteo "Berna" Bernasconi, born in 1982, Ragno di Lecco since 2003, mountain guide since 2011, died yesterday 12 May 2020, swept away by an avalanche in the Malgina Colouir in Valtellina.
Matteo Bernasconi (born in Lecco in 1982, Ragno di Lecco in 2003, mountain guide since 2011)
– 2006 new icefall route on the SE face of the Baratro in Val di Mello with Giovanni Ongaro
– 2006 with Hervé Barmasse, Lorenzo Lanfranchi and Giovanni Ongaro he opened a new route on the then untouched north face of San Lorenzo (Patagonia)
– 2008 with Fabio Salini completes the first Italian – and seventh overall – repeat of the legendary via dei Ragni on Cerro Torre (Patagonia)
– between 2010 and 2013 three attempts to climb the last great wall still untouched in the Cerro Torre massif, or the West of the Torre Egger, finally resolved by comrades Matteo della Bordella and Luca Schiera in March 2013 a few days after returning to Italy by Bernasconi for work commitments.
– 2017 in Patagonia with Matteo Della Bordella and David Bacci opens a new route on the east face of Cerro Murallon
– 2020 (February) in Patagonia with Matteo Della Bordella and Matteo Pasquetto he opened The die is taken on the north of the Aguja Standhardt, just before repeating the Via del 40esimo dei Ragni di Lecco on the north face of the Aguja Poincenot.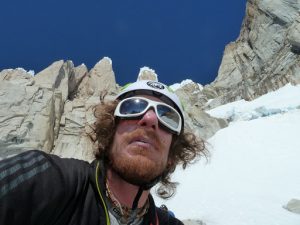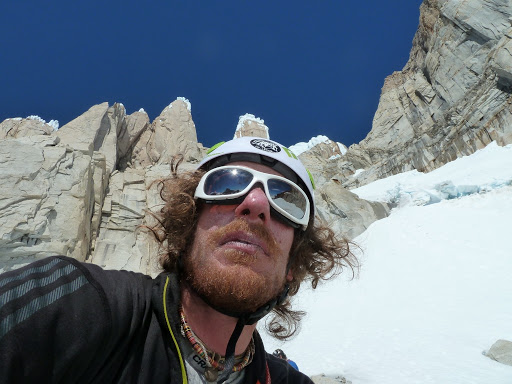 I have already had occasion to mention the darkest part of my passion in telling Mountain Stories, the confrontation with the death of women, men, friends, friends, family; the poor attitude to confront the mystery of physical disappearance, the inevitability of events that overwhelm even the most prudent in the mountains.
You never get ready when a young father dies, such a beloved figure as that of Bern: with his curls, his smile and his overwhelming sympathy, his humble and professional availability as a mountaineer and mountain guide.
While sipping coffee this morning, I saw a silent post on Riky Felderer's bulletin board, there was a picture of "Berna" (his nickname). A punch in the stomach.
In 2013 I started writing thanks to a series of messages exchanged with Matteo Bernasconi, who the year before had touched the sensational feat on the West Wall of the Egger Tower together with Matteo Della Bordella, when the two remained hung to life "With a Little Help from … a friend "after a fall, both hanging from a 0.3mm friend.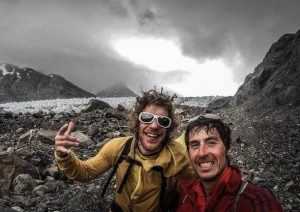 Matteo Bernasconi e Matteo Della Bordella (arch Ragni Lecco)
This is how my personal story as a modest writer and reporter of mountain things began: for the overwhelming sympathy, for the professionalism, the passion that Matteo Bernasconi immediately transmitted to me – and the same goes for the current President of the Spiders of Lecco, the his great friend Matteo Della Bordella.
The fact that his nickname is like mine, "Berna", seems funny and silly,but it was something special to me. I don't write this for rhetoric : without you, Berna, I probably would not have found the courage to write to famous, expert mountaineers to begin my journey in this passion for extraordinary people, capable of extraordinary feats on peaks, like you.

THANKS BERNA.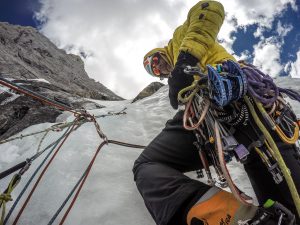 Tentativo sulla Siula Grande, Matteo Bernasconi (arch Ragni Lecco)
Matteo, you went on too early.
A huge hug to your little daughter, to your girlfriend, to the Spiders of Lecco and to all your friends.