Patagonia
A great start for climbing season in Patagonia, with the feat of the French Martín Elías, Jérome Sullivan and François Poncet who have opened a new path, "La Mariposa" (1200 mt, A3, M7, 6a) between 18 and 19 October on the inviolate spire of the South Pillar of Cerro San Lorenzo, called "El Faro" (3150 mt)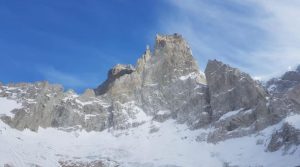 South Pillar Cerro San Lorenzo
"We started climbing at 10 in the morning, the forecast gave good conditions of high pressure until the next night, so we had 48 hours. First a part of technical climbing on mixed terrain and good rock, after we reached a ramp of snow and ice that we had identified during the previous exploration. From here, untied we quickly climbed the ramp of over 500 meters, with access to the steepest part of the wall. We climbed quickly and this made us hope to be able to sleep on the hill – but when we reached the end of the ramp, we realized that the bad conditions of the snow, the rock and the lack of ice would have created many problems and slowed down. When the night reached us I was climbing the first 30 meters of what would become the key section of the whole street: a vertical 80-meter chimney covered in snow, which I miss the words to describe the ugly quality of the rock. "Loose" is not suitable. "An asco" as the locals say! "
At this point the team rappelled down 30 meters, grading the ice for an uncomfortable bivouac. The next morning they started climbing rock and ice of extremely poor quality. Finally, a transit on the north wall, where they completed the three final shots of brine rock up to the summit, reached at dusk.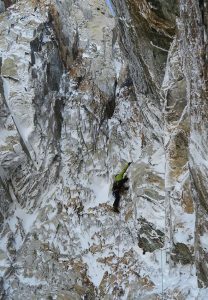 "We constantly questioned about chance of summit, with all that snow, the horrible rock and the adverse weather – in our experience, the weather at San Lorenzo range is always worse than expected – being on top was really a magical moment"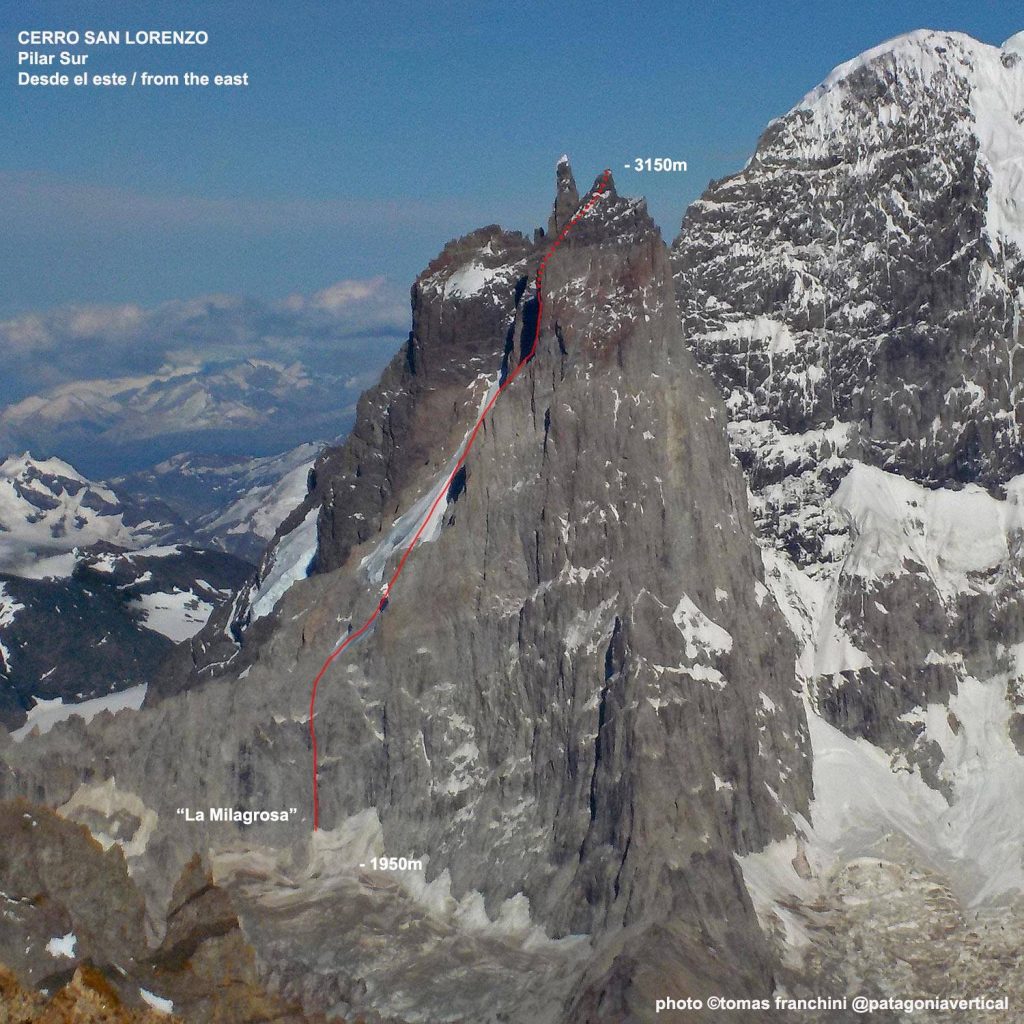 Route La Milagrosa – South Pillar Cerro San Lorenzo / Patagonia Vertical
Patagonia / Upcoming
Denis Urubko, the strong russian Himalayst (Polish naturalized, living in Italy), will be in Patagonia to try Cerro Torre – and perhaps Fitz Roy – in duo with the strong Maria "Pipi" Cardell, with whom he has shown excellent harmony already in 2017 (Pik Chapaev in Kyrgyzstan, nomination at Piolet D'Or) and last 2018 Summer in Georgia (long route up Mt Ushba, 4710mt). After 2 months that they will spend in Patagonia, starting from the end of November, they aim to try a new route on Gasherbrum II , during Summer 2019.
Also coming soon in El Chalten, two more "light" expeditions from Italy: Hervè Barmasse, arriving in the next days and in January the President of famed "Ragni di Lecco" climbing team, as well patagonia "champion", Matteo Della Bordella. Their climbing goals remains unknown as today.