1976: "the Eagles" of San Martino , Trentino, Italia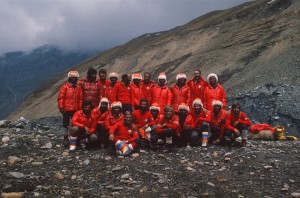 The italian Guides "Eagles of San Martino" and the Sherpas
On February,23th 1976 italian expedition of the Eagles of San Martino and Primiero left from Milan to Kathmandu, as follows: Renzo Debertolis expedition leader, Francesco Santon deputy, the Eagles Camillo De Paoli, Gian Paolo De Paoli, Luciano Gadenz, Gian Pietro Scalet, Silvio Simoni, Giampaolo Zortea, Edward Zagonel, mountaineers Sergio Martini and Luigi Henry, Poluzzi Achille medic and writer Alfonso Bernardi assistant and author of the chronicle of those moments in the book "Trentini on Dhaulagiri 8172 m."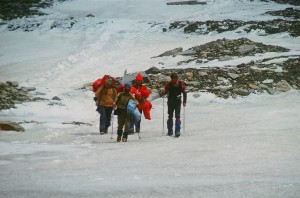 the descent from summit. Giampaolo Zortea and Silvio Simoni, the two mountaineers that succeeded to top out. Luciano Gadenz went down from around 7950 mt. due to freezing toes.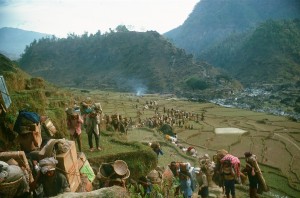 On May,4th 1976 Alpine Guides Giampaolo Zortea and Silvio Simoni, stood on the summit of Dhaulagiri wrapped in the storm, at 8,172 meters, their ice axes with Italian, Nepalese and of course the Eagles flags. It was the first eight thousand conquered by an expedition by Trentino mountaineers and, the third eight thousand conquered by Italian. The value of this mountaineering feat is well difficult to place in an absolute ranking, as it is formed by too many elements, human, technical, environmental and even in weightlessness, but it can be said that the climb to the Dhaulagiri 1976 deserves a place of highest order. "Valuable Success" headlined an article by Alessandro Pillory (known mountaineer and writer) on "Tuttosport" of June 12th, 1976. ( fonte: sanmartino.com )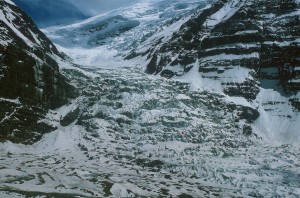 the glacier from the French Pass and the route on the right towards the Col and Northeast Ridge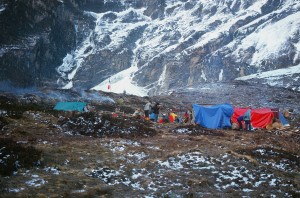 Base Camp later called "the Italians". Below, the "cathedral" north of Dhaulagiri.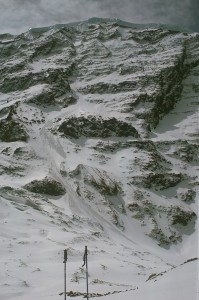 This incredible pic shows how many porters were hired by italians.
All rights reserved (c) Alfonso Bernardi – Bernardi family