"The extreme heat of the last few summers, and the heat of the five summer weeks we had this year, without a doubt have an impact on the permafrost, making the mountains more unstable"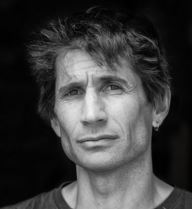 THE LONG AND HOT PATAGONIC SUMMER
The amazing series of ascents along the Patagonic granite towers, a continuous flow of lines repeated in speed, in free climb for the first time, the traverse crossing record achieved by "Captain Safety" Colin Haley along with Alex Honnold – btw we'll must talk about what this duo, a perfect merge of very different styles, had been able to show : the vitality and the purest form of alpinism – seems to have no end, because of a long good weather window that lasted a month and a half of good and hot weather. Rolando Garibotti, guardian, mentor and singer of all Patagonic ascents and sensitive, ethical and environment "guru", writes the downside of this extraordinary hot patagonic summer, caused by increasing climate changes , on his Facebook page Patagonia Vertical.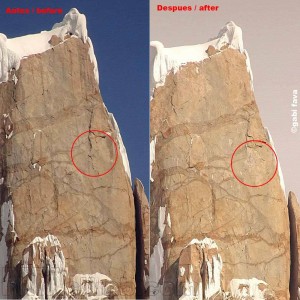 Cerro Torre flake fall (c) Gabi Fava
Contacted by montagnamagica, with his usual courtesy kindlyallowed us to translate his note of alarm, not coincidentally entitled "Achtung" (danger in german language):
"On January 20th, when Iaki (Coussirat ndR) died on the east face of Fitz, the result of rockfall, Gabi Fava and Martin Lopez Abad witnessed the fall of an enormous flake on the headwall of Cerro Torre. That day the freezing level was at 3800m, and there was rockand ice fall everywhere. Gabi relays that when t hey returned sometime later, with the freezing level at 3100m, everything was quite still. Although one could conclude that the freezing level is the key, the problem is rather more complex. The extreme heat of the last few summers, and the heat of the five summer weeks we had this year, without a doubt have an impact on the permafrost, making the mountains more unstable. Freezing level should be a consideration when choosing an objective but also perhaps it is time to start considering off-limits certain objectives during particularly warm summers, such as this one, regardless of the freezing level of one particular day. This learning has occurred in the Alps in the last couple of decades, it may be time to follow their example down here."
In the same post, a comment confirms Rolo analysis : the Finnish climber Lauri Hmlinen publishes a beautiful and at the same time impressive pic of the South Wall Cerro Torre, viewed from Polacos (base camp) where we can observe the rock fall that raises huge dust in the central part of the wall, right upon the huge vertical plate photographed and showed above by Gabi Fava, just below the summit mushroom , which is also seems getting smaller year after year.