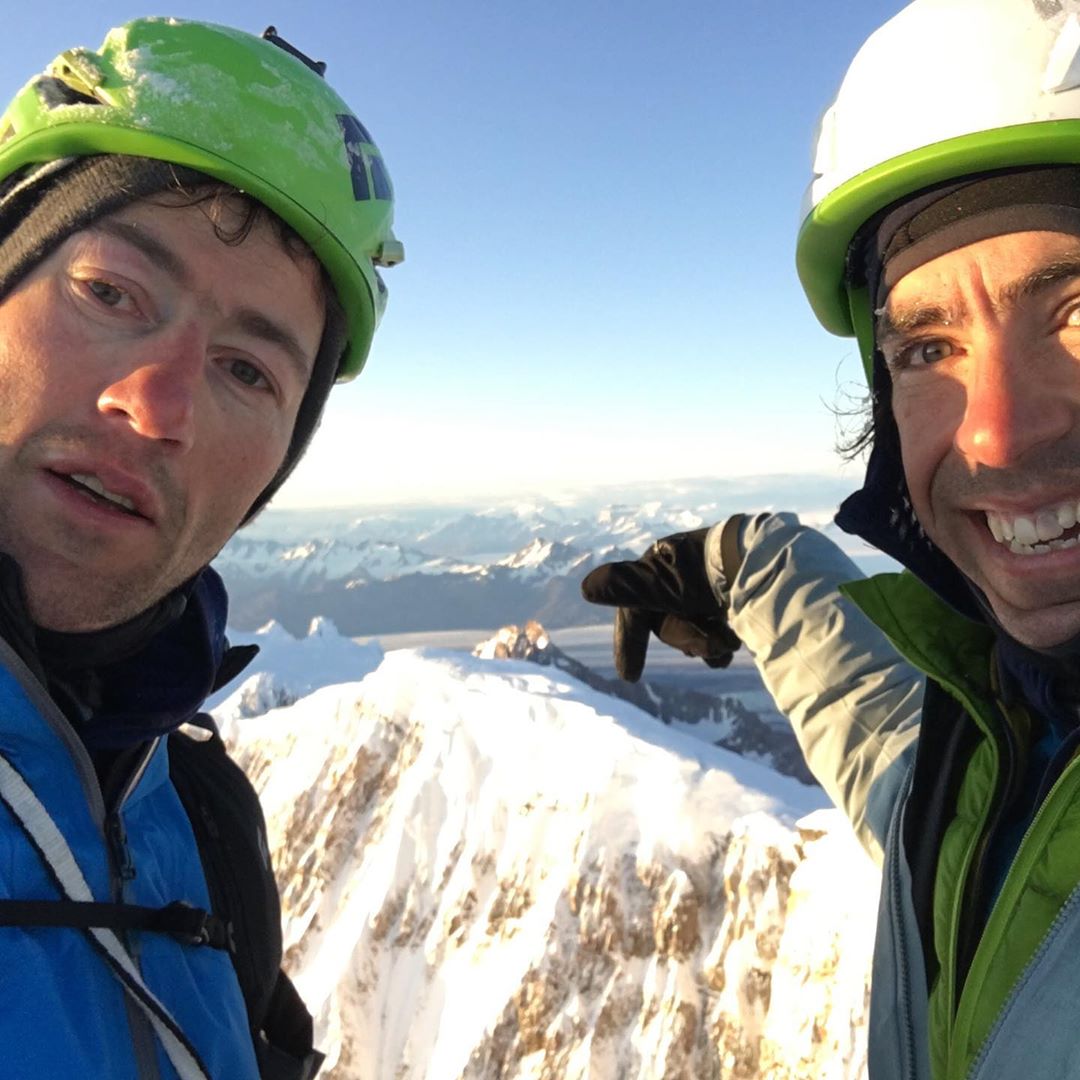 Corrado "Korra" Pesce, born in Italy in1981, from Novara ; living in Chamonix since over a decade, he is a very strong climber; now more "transalpine french" than italian, as he himself feels, he has become an Alpine Guide in France, he got a family on the French side of Mont Blanc. He likes difficult and technical routes ; has climbed a lot in the Alps and in Patagonia. He has just published a nice, very interesting story of his latest climb on Cerro Torre on Instagram that we copied here. It is really interesting for having a look at the current and future prospective of Patagonian climbing. It should be remembered that for the whole month of January the weather was bad, therefore the window of good weather caused ….
A traffic day on Cerro Torre
written by Korra Pesce
February finally brought an extended window of good weather here in Chaltén. Together with Jorge Ackerman we went up Noruegos with the same heavy backpack we already had taken down to the valley ready to fly away from this mad place.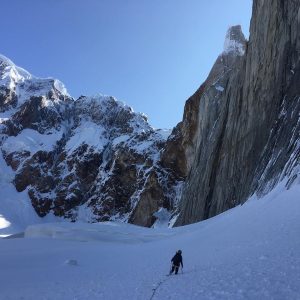 approaching Noruegos, Cerro Torre "Base Camp"
We knew conditions were hardly any good for rock walls especially on Torre. We decided to roll the dices on Tiempos Perdidos a route leading up the south side of Colle della Speranza, opened by Andy Parkin and François Marsigny in 1994.
Is a 800mt ice marvel unfortunately thretened by a massive serac. This route has seen repeats by some of the finest ice climbers ever visiting the range people like Bruno Sourzac, Bjorn Eivin Artun it was not completed to the summit until 2005 when Kelly Cordes and Colin Haley linked this route to the Ragni route all the way to the top.
We walked in on Feb 4th, the 5th we started from Noruegos in the afternoon and after basking in the sunshine under Mocho we slowly plodded our way toward our intended line. We were not sure about snow conditions untel we passed the shrund at around 9:30pm.
The route was in mega conditions, unbelievable good snow all the way but impossible to place good protection regularly. We simulclimbed the route in 4:30 hours then climbed up along the Ragni until a good bivy place below the Elmo. At 2:30 am on feb 6th we sat down in our light bivy kit and waited for the light.
After a few hours sleep we quickly realized there were a lot of people above. The Ragni route is one of the most coveted routes in the range for obvious reasons and everyone wanted to make it to the top as early as possible.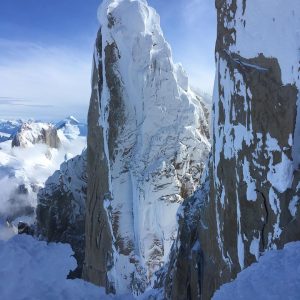 It was clearly a mess of people like 7 parties ,and under these circonstances it felt like ascending Ama Dablam or a technical 8000er.
We started at 8:30 and joined the group ahead two pitches below the top, they had done a great job of cleaning an unusual amount of rime up to there. From there, one of the climbers of the second party took over.
If the parties below didn't seem very psyched of seeing us passing our presence felt welcomed up there. Soon it seemed clear that someone will have to get very tired and wet by digging a tunnel on the last pitch.
I felt like my and Jorge presence up there were looked upon like something very useful, because we had already open the summit mushroom in past years. In fact we were only going to show that most people who had to dig the tunnel then will not be psyched to do it again, unless it's really the only option available. Of what i remember of rime climbing is that i'm notconvinced i'm especially good at that ,and was pretty impressed of the work made by Fabi and now Christophe.
I wouldn't dare pretending to lead or anything so we did not offer but were there in case they would run out of bullets. It could have been a chance of drying out in the sunshine but it was kinda cold and cloudy, we encouraged Christophe and waited.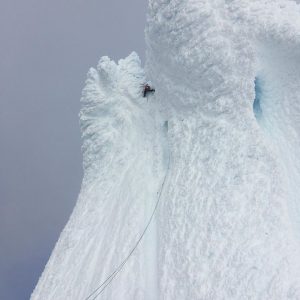 top of mushroom, exit to summit
he first part had a natural half pipe and was quickly ascended. Come to the overhanging part in order to avoid a massive fall we encouraged him digging a vertical tunnel. After hours of digging he came down wet and tired by the exilarating venture which included a 10mt whipper that had us all a bit stressed.
In the meantime a large group of Italians gathered below the mushroom. They had no bivy gear contrarily to the first parties and were obviously super psyched about making it up asap. Edoardo Saccaro made an amazing job digging his way up. In the meantime the teams with bivy kit or tents prepared for a bivy.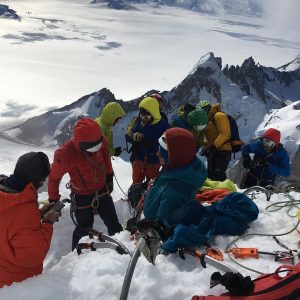 traffic on Cerro Torre
When Edo eventually topped out all of the incertain of the situation disappeared. We all instatly knew we would top out. We let all of the people w/o bivy kit go and with Jorge we crawled in the bivy bag.
The following morning there were not one, not two but three ropes fixed, it was clear that no one really gave a shit about any strict climbing ethics and we were all just firing to the top without getting hurt. It honestly was obvious since longtime that the expérience was altered beyond return.
Jorge made a microtraxion lap and i did the only thing i could think of, warming my frozen body by jugging and taking pictures of the north face. We stand on the top just after sunrise.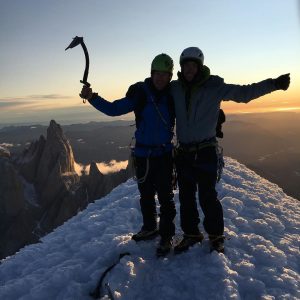 Korra e Jorge ,Cerro Torre summit
The descend went really well and we crossed a lot of people on the way up. I wonder if the actual situation on Torre is any different from the time when there were pitons on the compressor route.
I really see that 80 to 90 percent of the people on Ragni are not doing any of the real workload this ascent require. A lot of people with limited abilities are still making it up. Good for everyone as long as no one will hurt himself. I saw how watered down ice climb tends to become way too popular and the problems will come with this overcrowding. More unskilled people will come giving a try, more guided ascents, more drones.
I will not return to the Ragni in the middle of the season. Good job to Fabian Buhl, Edoardo Saccaro and Christophe Ogier who were keen to embrace the hard work they are the one who climbed Torre we were merély standing on top of it. Still, psyched for simulclimbing most of 1300mt with Jorge.
#cerrotorre #liveclimbrepeat #lasportivagram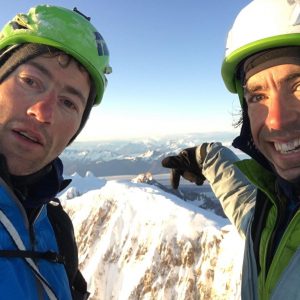 Korra Pesce and Jorge Ackermann
Thank you very much to Korra Pesce. All rights reserved by Korra Pesce, previously published on 3 posts Instagram @korra_pesce